I'm not so in to Hari Raya mood this year (Trust me I don't have any outfit for Raya yet!) since I have less than 2 months left before the wedding... which I'm nervous about! It's funny how far away it seemed when we were planning it end of last year. The wedding seemed years away, but now all of sudden its fall and its crazy how stressful weddings are. *Sigh* Anyway, I'm going to try my best to stay calm and get things done. And when the day gets here I know it will be fun. InsyaAllah.
Okay, let's forget about the wedding for a while and play a little game of
pretend Raya outfit! I

have been digging up some of the clothes I really want
to wear to death…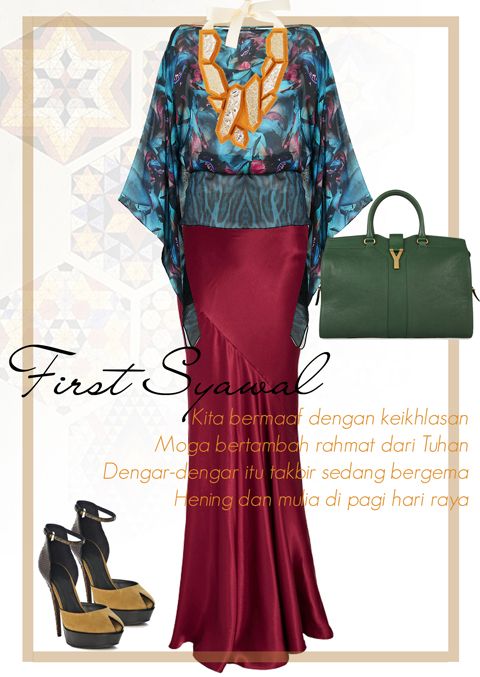 This flowy kaftans with contrasting print is my dream pick to top off a festive outfit. And these elegant silhouette silk long skirts are just perfect to pair with it. Next, onto the accessories! Stay tall with sacrificing comfort in these platforms and
Yves Saint Laurent bag with that freshly historical Y.
Last, but not least,
ARARED's Abstract Plate in Bejeweled + Brown
. A touch of glitz for an extra pizzazz, which makes it the perfect blend of feminine and edgy.
Ahhh,

I'm having
so much fun playing dress up with my dream outfits.
The idea of being your own Barbie doll, and imagine yourself into any situation you could dream up.
That is what fashion is about, isn't it?
I have loads more of imaginary Raya shopping in my head. Until then!